New Hampshire State Police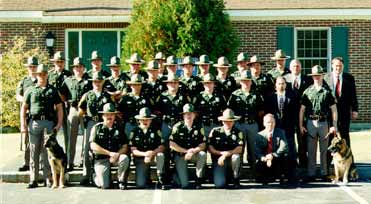 With the Canadian border to the North, Vermont to the West, and Maine to the East, Troop F is the largest of the six field Troops. The Troopers of Troop F are responsible for the Northern two counties of the state. This region comprises thirty eight percent (38%) of the entire land mass of the state of New Hampshire.
The Troopers of Troop F are independent and resourceful which is reflected by their pride on being noted for this self-reliance and versatility. These attributes account for the Troopers' success in patrol procedures and criminal investigations. Troop F, being rural in nature, assumes primary jurisdiction for sixty-one (61) of sixty-nine (69) towns in Grafton and Coos Counties.
Sworn personnel work closely with local and state authorities from New Hampshire and the two bordering states. A high degree of cooperation is also enjoyed with Federal agencies and Canadian officials. It is this spirit of cooperation and the realization of a common goal, that enhances Troop F's effectiveness.
Since 1986, Criminal Information Meetings have been hosted alternatively by Troop F and Troop B of the Vermont State Police. These meetings provide a clearinghouse for criminal information. The year 1990 marked the fourth year that these conferences have been hosted and well attended by many varied police agencies from both states and the Federal government. The forum has proven to be an effective medium for the exchange of information.