Twin Mountain - Bretton Woods Historical Society
Twin Mountain's Heritage
Twin Mountain originated from a King's grant from King George Third to the royal Governor John Wentworth in 1772. Governor Wentworth then issued smaller grants to friends, relatives and political associates. First settlers arrived, hardy pioneers, who farmed the land, built roads and homes. The families depended on wood from the forest, and in 1861, six privately owned sawmills operated in Twin Mountain.
Vacationers' Paradise
Innkeepers made Twin Mountain a destination for travellers. The first visitors stayed with the Crawford family when Hannah and Abel Crawford turned their log cabin into an inn. Their son Ethan Allen Crawford became the most famous guide in the White Mountains. More visitors needed a place to stay, so Abel and Ethan built the Notch House in 1828. Twin Mountain, with its magnificent scenery, became a vacation home for visitors from all parts of the country.
When passenger trains came to the mountains more grand hotels were built, the Twin Mountain House, the Crawford House, and in 1901 the Mount Washington was built. In the 1950's the grand hotels began to be replaced by motor inns as the family car replaced train travel. The 1960's brought winter sports to Twin Mountain as snowmobile trails were expanded into the forest. The ski area was opened at Bretton Woods, beautiful condos were built with ski trails to their door. In 1999, the Mount Washington opened for its first winter season, and welcomed winter guests for the millennium New Year's Celebration.

Twin Mountain Historical Society
Meetings are now held on the first Wednesday of each month at 7:00 pm in the Twin Mountain Town Hall. The current president is John R. Gardiner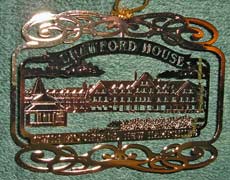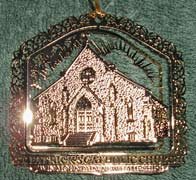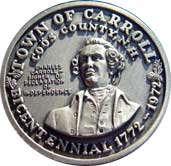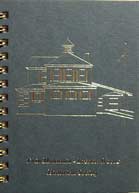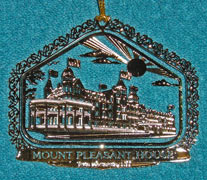 Prices/ordering info
2010 Christmas Ornament (Mount Pleasant House) $7.00 plus S&H.
2008 Christmas Ornament (Crawford House) $7.00 plus S&H.
2007 Christmas Ornament (St. Patricks Church) $7.00 plus S&H.
2006 Christmas Ornament (Twin Mountain Railroad Station) $7.00 plus S&H.
2005 Christmas Ornament (Twin Mountain House) $7.00 plus S&H.
Town of Carroll Bicentennial Coin
Coin is available in either Sterling Silver or Bronze, minted in 1972
Limited minting, less than 50 remaining
SilverCoin....$40/each....Bronze....$20/each
Historical Society Spiral Notebooks, 5"x7"..........$ 3.00
A Carroll History with Postcards: 629 images on CD ................ $40 plus S&H
To Order any of these products, please contact the Society:
Twin Mountain-Bretton Woods Historical Society
P.O. Box 464, Twin Mt., NH 03595
603-846-5573
Or E-Mail John Woolhouse at woolhouse1@roadrunner.com
Ornaments can also be purchased from Becki at the Town Hall or ordered by calling Mike Gooden at 846-5536
Annual Antique Tractor & Small Engine Show

A collection of antique tractors from the 2008 show