Twin Mountain NH: Hiking

On Top of Mt. Jefferson
Twin Mountain is located in the heart of the White Mountains. There are many hiking trails for the beginner to the advanced rock climber. Located along the Appalachian Trail, Twin Mountain is the place hikers rest and plan their outdoor adventures.


Twin Mountain is located just five miles north of the Franconia Notch State Park, home of the old man of the mountains. There are many hikes located in the Park; a few family hikes are described below:
Find a comprehensive listing of hiking, biking, XC skiing and snowmobiling trails:
NH Trails (opens new window)
Bald Mountain and Artist's Bluff
Reached by a short hike, offers fine views of Cannon Mt. and Franconia Notch. The 1.5 mile loop begins in the parking area across Route 18 from Peabody Base Lodge. After 1/4 mile a short, steep path diverges left for 1/10 mile to the open summit of Bald Mountain. The main trail continues on from the junction and bears right, up and across the low ridge. A short unmarked path diverges left to the open top of Artists Bluff. The main trail continues down to Route 18 near Echo Lake.
Sugarloaf

A medium-length hike with one of the best view per mile walked ratios in the Whites. One mile in on the Zealand Road off of Rte. 302 park north (just before) the bridge over the Zealand River. The trail starts just south of the river. Seen at right is the view from Middle Sugarloaf.
Lonesome Lake
Nestled in the mountains 1,000 feet above the floor of Franconia Notch, is a popular hiking destination. It is reached by a 1 1/2 mile (one way) trail that begins at Lafayette Place, just south of the cabin near the campground. A lakeside trail leads to The Appalachian Mountain Club (AMC) hut at the far end of the lake and passes by an inactive beaver lodge.
Mt. Garfield
For those who are a bit more daring, we recommend the Mt. Garfield hike. Mt. Garfield is over 4,000 and is the pointed mountain seen from Franconia Notch. The trail head is located off of Route 3 in Twin Mountain.
Hiking Stories and Resources
Affordable Lodging for hikers

Lyons Hospitality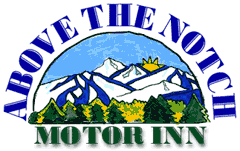 Above the Notch Motor Inn
---
For complete descriptions and directions to the Trails,
Buy a copy of the AMC's White Mountain Guide!
A must have for all hikers!

Buy the Book on-line! (will open new window)
Remember When Hiking to bring along:
Extra Clothing and Sturdy Footwear,Food and Water, Pocket Knife, Maps, Compass, Flashlight, Waterproof matches/firestarter, First-aid kit, Whistle, Rain/Wind Gear.
Remember the higher the elevation, the colder, windier and wetter the weather. It may be a warm day starting out, but once your above 1,000 feet, the weather changes quickly! For More info about NH trails, visit: New Hampshire State Parks online. (will open new window)