The Kenneth Bradley Jordan Memorial Bridge
By Jeff Woodburn
Each spring, the North Country comes alive. Few are more ready for this change than high school seniors, who are edging toward graduation, freedom and adulthood. In May of 1966, three Whitefield high school buddies - David Glidden, Butch Rexford and Ken Jordan - missed a day of school to go to Concord. It was a place they had likely never been before. The one-hundred mile trek south to Concord was a long trip back then. The U.S. Marine recruiter, who drove them, would have followed Route 3 through a dozen or so towns before reaching the highway, and, this, would have given them plenty of time to think about their future or at least weigh the ramifications of their decision to go to war. "We understood the risks," Glidden said, "We figured it was our duty." After a battery of tests, it became clear one of them was not going. Rexford was deemed ineligible to serve because of a health condition. In January, after basic training, Glidden and Jordan were off to Vietnam and on Easter Sunday, the day after his 19th birthday, Jordan stepped on alandmine and died two days later.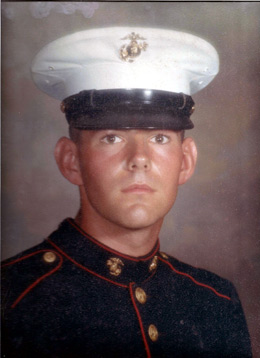 Kenneth Bradley Jordan had always wanted to be a Marine. His mother, Olga, better known as Gay, had been a marine in World War Two, and his father, Maurice, who everyone called "Bud," served in the army. The Jordan's owned a Sunoco gas station and a few tourist cabins along Route 3 just south of the Route 302 intersection in Twin Mountain. Bill Houghton, a neighbor of the Jordans, remembers an occasion when he was home on leave from Korea. He was sporting his Marine uniform, when young Jordan, who was 7-8 years old at the time, approached him with the news that he too was going to be a marine someday.
Growing up, Jordan seemed wise and mature beyond his age. Mary Young, his teacher and neighbor, recalls a junior high school field trip to Cannon Mountain that turned problematic when the single chaperon suffered a concussion. Young was forced to take the adult to the hospital and left Jordan in charge giving him the key to the Twin Mountain School. "He was nice," she said, "always smiling." At Ninth grade, Twin Mountain students transferred to Whitefield High School, where local students had formed bounds over eight years of schooling. But Jordan, with a warm personality quickly made new friends and became a popular addition to his new school. Rexford and Jordan became fast friends enjoying their time in the woods together."He was the best friend I ever had," said Rexford, "He went out of his way to help others...always focused on others."
Jordan's personality was not only infectious, but his interest and abilities seemed all inclusive. He was a skilled athlete -- playing baseball, basketball and running track. He was also active in the Boy Scouts and theatre. In a very short time, he won the loyalty of his classmates by being chosen President of his class, a rare fete for non-Whitefield resident. His high school noted that he was chosen by his classmates as both the most energetic and cooperative student.
Between basic training and leaving for Vietnam, Jordan returned home to the North Country for a twenty day furlough. While visiting with his friend and fellow classmate, David Astle, Jordan made a strange, yet prophetic announcement. "Ken told me, 'I'm not coming back,' Astle said. Such a statement was not uncommon, warns Glidden, who said, he'd probably said the same thing himself. He attributed it to the aggressive training and preparation to get men ready for combat. "It was complete harassment one-hundred percent of the time," he said of the training, but even that wasn't adequate preparation for the horrors of Vietnam.
It could have been more too. This war was not going well, the enemy's guerilla warfare proved difficult to penetrate, our own political resolve was beginning to weaken and, by 1967, the casualties were ticking up rapidly. Tom Gage, then Whitefield's police chief and Korean War veteran, caught the growing distinction between World War Two and other wars, when he said, "Vietnam, like Korea, wasn't a favorite for anybody." One of the regular tasks of the Marines was to continue to capture enemy territory. "The Marine's always go in first," Glidden added. "It was a very delicate" task that they called "wipe-ing" he said, "The foliage was thick, jungle like" and you had to be alert to enemy attack as well as the presence of landmines. The key was to be totally attentive to your surroundings, and "only step in untouched soil." He credits his years in the woods hunting with saving him from death, but in the final analysis it was more about fate than anything else.
On his sixty-eighth day in Vietnam, Jordan was somewhere in South Vietnam penetrating enemy grounds, when his foot hit a six inch box landmine. The injuries were severe, but he lingered for two days in a hospital before dying. Glidden, who was in North Vietnam at the time, got the news of his friend's death from his squad leader. He was told that it was his job to escort Jordan's body home to New Hampshire. "I couldn't believe Kenny was gone," he said, "Until this day, I still don't."
Small towns experience and feel pain more broadly than most places probably because there is no refuge from it. Everyone knows, and cares. This was especially true with the news of the death of young Kenny Jordan fanned out across the North Country. Jordan's friends remember exactly where they were when they learned the fateful news, and the accompanying sense of shock and disbelief. Jordan's parents personally informed their son's closest friends and asked them to be honorary pall-bearers for his funeral. "The whole town was in a state of shock. It brought the war home in a very personal way." Rexford, one of the pall-bearers, said, "I was angry, but I never doubted the rightness of the war." Astle, who was also a pall-bearers, said the "area took it pretty hard. He was one person that it shouldn't have happened to." The reach of this tragedy touched many people, well beyond his immediate peers. Steve Canton, who was a few years younger, had long admired Jordan. "It hit me real, real hard," he said, "I remember my mother calling up to me and telling me the news." A few years later, Canton himself joined the Marines and went off to Vietnam and, he said, "The basic reason was because of Kenny."
Jordan was laid to rest with a full military funeral at Twin Mountain's St. Patrick's Church. Over 500 mourners - nearly twice the town's population - filled the stone church and spilled outside.
Even today, some forty-two years later, the reaction of a dozen or so of Jordan's friends follow a similar pattern. First, there is caution and a measured restraint holding back a flood of emotions, and in time, the personal stories slip out as a reminder that a person's life is measured not by how they die, but how they lived. The stories often describe tender moments of kindness and selflessness that rarely mark an adolescent males developing personality. The pain of the fateful news still haunts them and, for some, it was an abrupt end of innocence that seemed to mark their idyllic childhood. Others are bitter. Glidden, the young man that enlisted with him and escorted his body home, said, "Kenny lost his life for nothing," while noting that U.S. pulled out of Vietnam and achieved none of its original objectives.
In 2004, Canton, then a supervisor at the state's Department of Transportation, couldn't shake the feeling that his fallen friend deserved some kind of a memorial. Then it hit him that a proper tribute would be to name one of Twin Mountain's bridges. So, after several months of building broad community support, legislation was filed to dedicate an un-named bridge that spans the Ammonoosuc River along Route 3. Today, the Kenneth Bradley Jordan Bridge stands within eye shot of the church where his funeral was held and a short distance from his childhood home and the cemetery where he was interred. And, although Route 3 has been reconstructed - raised, widened and straightened - it is the same route that took the three young men to Concord in the spring of 1966, full of dreams of the future and also took one of them home much too soon.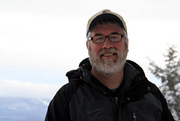 --Jeff Woodburn, of Dalton, NH is freelance writer and teacher.
More articles by Jeff Woodburn:
Mount Washington
When a warning becomes a dare.....